Multimodal composing: the purposeful and rhetorical integration of different meaning-making modes—alphabetic text & typographic treatments, audio, video, gesture, color, animation, photographs, drawings—in order to achieve an intentional, rhetorical effect. 
History & Implementation
2010-11: Our initial focused efforts in multimodality & multimodal composing in First Year Writing at DePaul began in the Autumn Quarter of 2010, with a charge from then-Director Darsie Bowden and the First Year Writing Committee to require a multimodal component in all First Year Writing courses, beginning in 2011. The new requirement was serendipitous, as many of us had already been talking about multimodal theory, practice — especially in relation to literacy practices — assignments, projects, and opportunities based on our experience with Digital Writing Portfolios, which we were also simultaneously piloting in 2009-11. 
Not all of this was "new," of course, as many First Year Writing colleagues had already been working with typographic assignments and digital literacy narratives since at least the mid-2000's. 
Our early conversations focused on disciplinary practice and implementation, from which we already had bountiful materials to explore — shifts from page to screen environments and assumptions about the implications of print and digital transitions (cultural, cognitive, metacognitive, educational, economic); the role of technology; new and "multiliteracy" pedagogies; the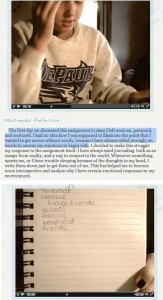 emphasis on visual and graphic modes of communication; ludic rhetoric; tension around notions of writing vs. composing; the rhetorical and semiotic dimensions of multimodal composing; and assessment. And because we wanted the multimodal-composing initiative to be a process that instructors could integrate without distracting them from their own teaching strengths and pedagogical commitments, we framed many of our initial discussions around the role of the print-based linear essay and its dependence on a single topic — what is its value? to whom? how do we know? — as a context for further and ongoing explorations.
In that spirit, our first D-WRD session on multimodal composing, in the Winter Quarter of 2011, which was a collaboration between the First Year Writing Committee and the D-WRD Working Group, focused on specific claims and current practices, with the goal of developing local and contextual multimodal practice:
James Elkins on the role of images in visual studies and in university curricula
The New London Group's "A Pedagogy of Multiliteracies: Designing Social Futures," the ur-text of multimodality, which gives us the foundational materials and processes — and progressive ideology — behind multimodality and multimodal composing 
Diana George's "From Analysis to Design: Visual Communication in the Teaching of Writing," which calls for attention to composing strategies that allow for "the visual as much more than attendant to the verbal." George's piece was also the inspiration for our AQ 2012 workshop on typography
The St. Martin's Handbook and e-Handbook, Chapter 4: Visual Thinking
Selfe's and Takayoshi's "Thinking about Multimodality," which remains a disciplinary touchstone for claims made for multimodal composing
A follow-up D-WRD session in the SQ 2011 focused on Lauer's "Contending with Terms: 'Multimodal' and 'Multimedia' in the Academic and Public Spheres," which nicely articulates some of the rhetorical differences and implications of "multimedia" and "multimodal." We also revisited some claims grounded in disciplinary practice, so that our multimodal work remains mindful:
Increased student rhetorical and intellectual engagement
Opportunities for sophisticated rhetorical composing of multimodal texts, rather than only consuming multimodal texts
Increased attention to the dynamics of communication: "bringing it to consciousness"
Engagement with social semiotics
Draws on students' multiliteracies
SoGC is a highly metacognitive task that requires ongoing documentation and reflection
Exploring final products in relation to the complex, always-mediated, and highly distributed processes involved in the production, distribution, and valuation of those products
During AQ 2011, Anne Wysocki visited DePaul for a WRD-sponsored talk, "Paging Memory, Seeing Memory" and visited a First Year Writing course that happened to be in the midst of a multimodal project related to their digital writing portfolios. We read, discussed, and planned for integrating "Statements of Goals and Choices" (SoGC) in FYW courses, especially for their potential and generative value in which we can investigate with students: patterns of choice, "individual(s)-working-with mediated means" and "products-in-relation-to process." We read, discussed and planned possible projects around John Trimbur's "Delivering the Message: Typography and the Materiality of Writing."
Our WQ 2011 First Year Writing Faculty Professional Development Meeting included colleagues' multimodal-composing assignments and outcomes: Blair Banwart on "Remediating Literacy Narratives"; Dana Dunham on "Text & Image"; Michael Moore on "Text Editor with Tables"; Joyce Bean on "Why Multimodal Matters"; Justin Staley on "Images and Hypertext"; Eileen Seifert on "Assessment." We discussed the misconception that faculty must learn new platforms, technologies, and software in order to support students' multimodal composing projects. Students can draw on materials and modes of their choice, exploiting modes with which they are familiar or want to explore, which is an important rhetorical and mediated decision in itself. Faculty are not expected to become technology experts; we are experts in rhetoric & composition first, and we are still expected to teach from our own strengths. 
Our AQ 2012 First Year Writing Faculty Professional Development Meeting included a presentation and hands-on activity facilitated by Department Chair Pete Vandenberg on semiotics, modes, and multimodal composing. (See Pete or Michael for slides.)
Our AQ 2013 First Year Writing Faculty Professional Development Meeting we focused on framing our collective expertise and collected materials in the context of technology and literacy, which is central to disciplinary approaches to multimodality. 
Our AQ 2014 First Year Writing Faculty Professional Development Meeting recapped our approaches so far: we revisited Shipka's material and evocative approaches — the materiality and the physicality of writing and literacy — and integration opportunities designed to help instructors design projects, assign them, support them, and assess them. We also revisited the Statements of Goals and Choices (SOCG) genre, in which students are asked to articulate their projects' purposes, contexts, and audiences for their work; detail and justify their selections; explain how their choices serve the overall goals of the project; and evaluate how the choices made allowed them to accomplish the goals that other combinations of choices would not have or could not have. 
D-WRD sessions in 2012-13 focused on:
Digital technologies for audio and video composing: iMovie, Audacity, Garageband, SoundCloud, and included applications for storyboards in a composing process
Integrating critical-thinking components in a multimodal-composing process, especially related to intended audience-based rhetorical effects, documenting goals and choices, reflective writing, and integration in digital writing portfolios
Print-based multimodal projects: typography and materiality (revisiting Trimbur)
2014-15 sessions and conversations included:
Join Us for Upcoming Opportunities
2016-17 goals:
What are the rhetorical aims & purposes of multimodal composing projects?
Focusing on the interaction between modes in multimodal-composing projects
Affordances: On Multimodality: New Media in Composition Studies
From Multimodal teaching and learning:
the rhetorics of the science classroom: "Several issues open out from this starting-point: if there are a number of distinct modes in operation at the same time (in our description and analysis we focus on speech, image, gesture, action with models, writing, etc.), then the first question is: 'Do they offer differing possibilities for representing?'  For ourselves we put that question in these terms: 'What are the affordances of each mode used in the science classroom; what are the potentials and limitations for representing each mode?'; and, 'Are the modes specialized to function in particular ways. Is speech, let's say, best for this, and image best for that?' …"
Integrating multimodal work, projects, and outcomes in portfolios for both students and faculty
What does the St. Martin's Handbook 8/e. say about multimodal composing?