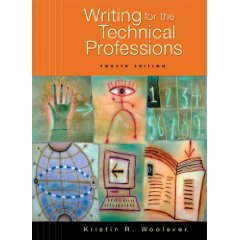 Required Text
Kristin R. Woolever.
Writing for the Technical Professions.
Longman / Prentice Hall; 4 edition
ISBN-10: 0321477472
Provided as handouts or as PDFs:
Schriver, Karen. "How Documents Engage Readers' Thinking and Feeling." Dynamics in Document Design. New York: John Wiley & Sons, 1997.
Berkun, Scott. The Art of Project Management. O'Reilly, 2005.
Bravo, Ellen. "The Hazards of Leaving Out the Users." Participatory Design: Principles and Practices. Lawrence Erlbaum, 1993, 3-11.
Spinuzzi, Clay. "The Methodology of Participatory Design." Technical Communication, 52(2005): 163–174.
Suchman, Lucy. "Making Work Visible." Communications of the ACM. 38(1995): 56-64.