Theorizing Art & Nature in British Literature

Week 1
— Working backwards from "sustainability"
* Panofsky: Perspective as Symbolic Form
* J.M.W. Turner: The Blue Rigi: Lake of Lucerne, Sunrise
* Cecily Brown: Girl Eating

Week 2
— The Poetics of Perspective
* Noun, Foot, and Measured Line: ut pictura poesis
* Turner, continued (Met)
* Mina Loy Love Songs: I and "Morevoer, the Moon"


Week 3
— William Wordsworth
* "The Daffodils; or, I Wandered Lonely as a Cloud"
* "Why art thou silent! Is thy love a plant"
* "Composed upon Westminster Bridge, September 3, 1802"
* "Influence of Natural Objects in Calling Forth and Strengthening the Imagination in Boyhood and Early Youth"
* "The World Is Too Much With Us"

Week 4
— Percy Bysshe Shelly
* "Mont Blanc: Lines Written in the Vale of Chamouni"
— William Blake.
Songs of Innocence and of Experience
Marriage of Heaven and Hell:
* "Proverbs of Hell" (Plates 7-10)
* "Printing House in Hell" (Plate 15)

Week 5
— Blake, continued
— Rex, "Five Hundred Years of Fruition"

Week 6
— Rudyard Kipling
* The Jungle Book
What does it mean to "personify" nature?

Week 7
— William Butler Yeats
* "The Lake Isle of Innisfree"
* "The Second Coming"
— James Joyce
Ulysses: Telemachus

Week 8
— Ulysses: Nestor and Proteus
Context: "I remember the famine."

Week 9
— Ulysses: Calypso, Lotus Eaters, and Hades
Context: Ulysses as an adaptive-landscape model?

Week 10
— Ulysses: Aeolus, Lestrygonians, and Scylla and Charybdis
Context: "The supreme question about a work of art is out of how deep a life does it spring. The painting of Gustave Moreau is the painting of ideas." (U9:49)
"-The peatsmoke is going to his head," John Eglinton opined.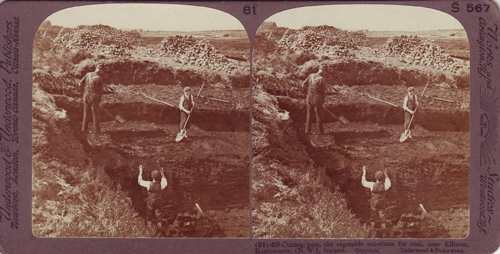 Week 11
— Ulysses: Wandering Rocks, Sirens, and Cyclops

Week 12
— Ulysses: Nausicca, Oxen of the Sun, and Circe
Context: Bloom: "Aurora borealis or a steel foundry? Ah, the brigade, of course. South side anyhow. Big blaze. Might be his house. Beggar's bush. We're safe" — and modern interpretations of Circe.

Week 13
— Ulysses: Eumaeus and Ithaca
Context: multicultural, postcolonial, and environmental  contexts for modern Irish art.

Week 14
— Ulysses: Penelope