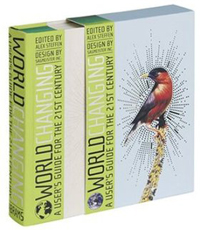 Kingsolver, Barbara. Animal, Vegetable, Miracle: A Year of Food Life. HarperCollins, 2007. ISBN-10: 0060852550 [www]
Horton, Lynn R. Grassroots Struggles for Sustainability in Central America. University Press of Colorado, 2007.
ISBN-10: 0870818724 [www]
Oliver, Mary. What Do We Know: Poems and Prose Poems. Da Capo Press, 2003.
ISBN-10: 0306812061 [www]
Steffen, Alex. Worldchanging: A Users Guide for the 21st Century. [www]
ISBN-10: 0810930951
Louv, Richard. Last Child in the Woods: Saving Our Children from Nature-Deficit Disorder. ISBN-10: 1565125223 [www]
Handouts & PDFs
Ellen, Roy. "Introduction": Ethnobiology and the Science of Humankind.
Journal of the Royal Anthropological Institute. 2(2006): 1-22.
Kay, Jeanne. "Human Dominion over Nature in the Hebrew Bible."
Annals of the Association of American Geographers. 2 (1989): 214–32.
Microbial Communities: From Life Apart to Life Together.
American Academy of Microbiology, 2003.
Jonathan Lange, "The Logic of Competing Information Campaigns: Conflict over Old Growth and the Spotted Owl"
Marilyn Cooper, "Environmental Rhetoric in the Age of Hegemonic Politics: Earth First! and The Nature Conservancy"
Brant Short, Earth First! and the Rhetoric of Moral Confrontation"